All you Sbux fans are gonna love this :)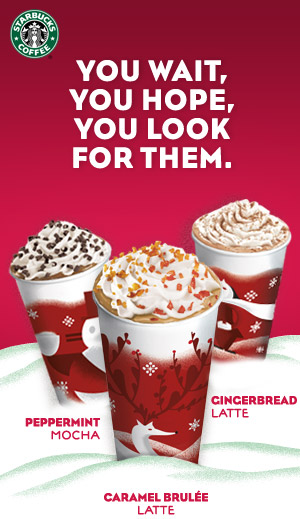 At Starbucks, the holidays are all about sharing memories and stories with the people in our lives, drawing each other closer and sparking that connection of the holiday spirit.
Spend time at home with friends reliving stories over a cup of Starbucks®Christmas Blend, or take a spirited afternoon jaunt with a colleague for a Caramel Brulée Latte, Peppermint Mocha, or Gingerbread Latte. Remembering to make connections with the people around us helps bring the holiday spirit to life.
Now you can ignite the holiday spirit everywhere you go — whether you're on the slopes or at the rink, new Starbucks VIA® Ready Brew Christmas Blend will warm hands to match the spirit.
From Nov. 18-21, 2-5 p.m., buy one holiday drink and get one free to share!